Top Frontend Frameworks of 2023 for Web Development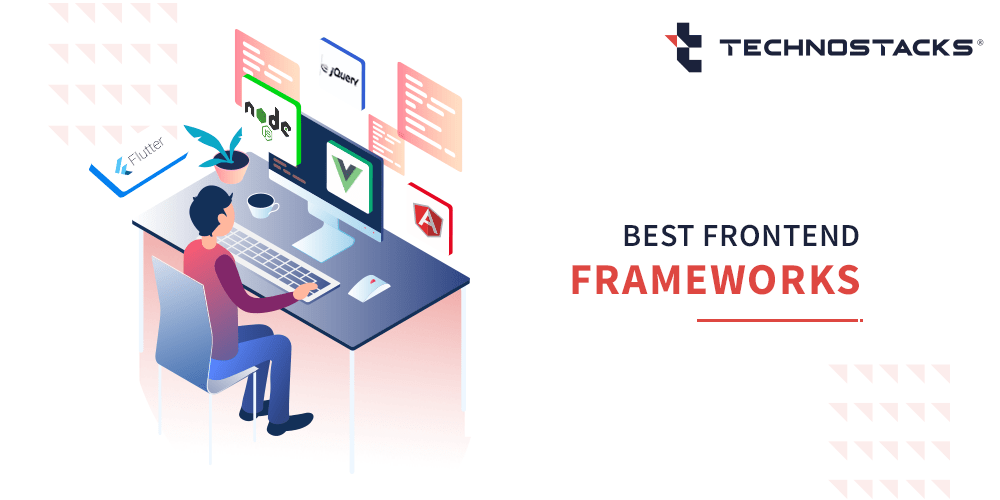 Top Frontend Frameworks of 2023 for Web Development
Developing what the users see on their screens is the role of a front-end web developer. Unarguably, front-end developers worldwide are trying to use the best front-end frameworks to provide the best user experience.
The digital market has become a competitive space since many businesses are joining the league each year. There was a time when only a few players developed their digital platforms and started offering their products and services. With the technology boom, organizations understood that online interaction and presence is the future.
Today, the end-user is the focus, and it is crucial to render a great experience to retain customers in the long run. The first step in this process is developing a user interface that is seamless and appealing. Indeed it means developers dealing with complex operations and functions. But ultimately, the efforts result in profitable business growth.
Tech giants have been extensively using frontend frameworks. As the name suggests, frontend refers to how an application or website looks to the user. The content arrangement, typography, graphics, etc., all contribute to the visual appeal of the platform. Thus, the frontend framework can be defined as the tools used to build the visual aspect website or application. Some of the major tasks associated with this framework are:
● Managing AJAX requests
● Correlating data with the document object model
● Outlining file structures
● Styling and designing of app or website components
hurdles
What are Frontend Frameworks?
Before discussing the top Front-end Frameworks, let's understand what Front-end frameworks are. To understand a Front end framework, we need to know what the front-end is. The front-end of a website or application is the stuff visible to the user on the website. The graphics, typography, and arrangement of these two are what contribute. In addition, it includes building user-friendly interfaces and efficiently presenting the data from the back end to a user.
Thus, a Front-end Framework is a platform/tool to build the front end of your website. Some of the tasks one can perform using a Front-end Framework are – the management of AJAX requests, associating data with The Document object Model (DOM) elements, defining a file structure, and styling of components on the website or application.
Best front-end Frameworks in 2023
When it comes to Frontend Frameworks for web development, there will always be debates regarding which among them is the best. However, after researching the recent studies and surveys about the most popular Front-end frameworks, we have come up with an explicit list of the best front-end frameworks for you. This list is prepared as per the surveys conducted by Github stars.
With immense development in technology, there are several frameworks available that developers can work with. Each framework offers a unique feature, and thus, it becomes crucial for the developer to choose the right one. Since every business has a different goal, the web or app should be developed in correspondence to the same.
The ranking of these Frontend Frameworks for web development decides as per the following three crucial factors –
Type of applications you can create with it
One of the most important deciding factors in choosing a front-end framework is what type of application or website you want to create. Whether it is a large-scale application or a small-scale web application, the choice of a framework varies a lot. The most popular front-end frameworks for large-scale applications are – vue.js, react.js, angular, and smaller web applications – jquery and Backbone Js.
The ease of learning and using
With the growing popularity of the digital world, more and more new developers are emerging each passing day. Today, people believe in learning skills that are easy to learn and can help them earn a good living. Therefore, newly emerging front-end developers prefer learning the frameworks that are easy to learn and use and have all the features needed. For example – Reactjs, Vuejs, and Backbonejs are some of the simplest and easiest frameworks to learn than the complex frameworks like angular.
Developers Income
If we think from a developer's point of view, we'll prefer the framework that earns us the most. That's right! Developers working on different frameworks have different earnings. For example, a detailed discussion on front-end frameworks and a Q&A on the website Stack Overflow revealed that front-end developers working on Reactjs and Nodejs frameworks earn $95,000 – $105,000 on average. Therefore most developers prefer learning and opting for React.js to develop the Front-end of a website.
Factors Considered when Shortlisting the Most Used Front End Framework
Shortlisting the best frameworks is a tough job since each one of the available frameworks has a USP. Thus, this List is based on three broad factors to make it easier for the developers.
●Type of web or app that the developer wants: One would need a framework depending on the kind of app or web he intends to develop. A large-scale vs a small-scale app will need different features, and hence, one needs to choose the framework accordingly.
●Simple and easy to adapt frameworks: Developers need to work with several projects simultaneously, and hence, they need simple frameworks. Thus, new developers prefer such frameworks over the complex ones to stay ahead of the competition and render better output to their clients. Easy adaptability allows quick learning and better results.
●Cost-effectiveness: Developers prefer working with the latest frontend frameworks that offer the best features and are cost-effective. It helps them earn more and thus, are popular.
Now that we know what Front-end Frameworks actually are and what they are used to discuss the best front-end frameworks in 2023. So, if you a front-end developer or simply looking to hire a dedicated front-end developer, you'll know what framework is your go-to option.
Key Takeaways
The choice of frontend framework essentially varies according to the business goal, target audience and desired website or application design. Thus, developers should keep a close check on the developments in this segment. Choosing the proper framework would mean making the first correct move toward future goals.
So far, we've discussed some of the best front-end frameworks available. However, the technology is ever-evolving, and who knows, we may have an even better Framework shortly.
Besides developing new Frameworks, the already available ones are spreading their roots deeper in the market through regular updates and introducing better features. Therefore, there will always be various Frameworks available for the Front-end developers to learn and work with.
Technostacks has a dedicated team of front end developers. Contact us for front end development projects or hire our professional front end developers.
FAQs of Front-end Frameworks
What are front end frameworks?
Answer: They are CSS frameworks and packages having pre-written, standardized code in folders and files. They offer you a base to develop on while still enabling flexibility with the concluding design.
Which front end framework can be used for large-scale applications?
Answer: Currently, there are 3 significant frontend technology stacks – Vue. JS, React. JS, and Angular ecosystem which are extensively used for large scale projects.
Which front end framework can be used for small web applications?
Answer: We would recommend JavaScript and JQuery for small web application projects.
Which front end frameworks are easier?
Answer: React is easy to collaborate and learn. Vue can manage processes effortlessly and Backbonejs is quite easy to learn.
Which front end frameworks are difficult to learn?
Answer: When matched to React, Angular is difficult to learn.
When should I use the front end framework?
Answer: A front end framework offers you an assurance that you are building an application that is compliant and well structured, and that is further upgradable and maintainable.
Is Django a front end framework?

Answer: Neither. Django is a framework or a language. It is a collection of Python libs enabling you to swiftly build a superior quality Web-based application, and is fit for both front-end and back-end development.

Is jQuery a front end framework?
Answer: jQuery is a cross-platform JavaScript library build to ease the client-side scripting of HTML.
Which popular frontend framework is utilized the most?
Answer:React JS is the most used and popular framework globally. It is simple to learn, can be leveraged in any project category, and has a massive community.
Which is the fastest frontend framework?
Answer:Svelte is a lightweight frontend framework used to enable projects with minimal coding and is the swiftest framework in the marketplace.
Is node js just a frontend framework?
Answer:There is a misunderstanding among professionals that Node. Js is a backend framework and is only leveraged for enabling servers. This is not true: Node. Js can be utilized both on the front end and the backend.