17 Best JavaScript Frameworks For Robust Web Development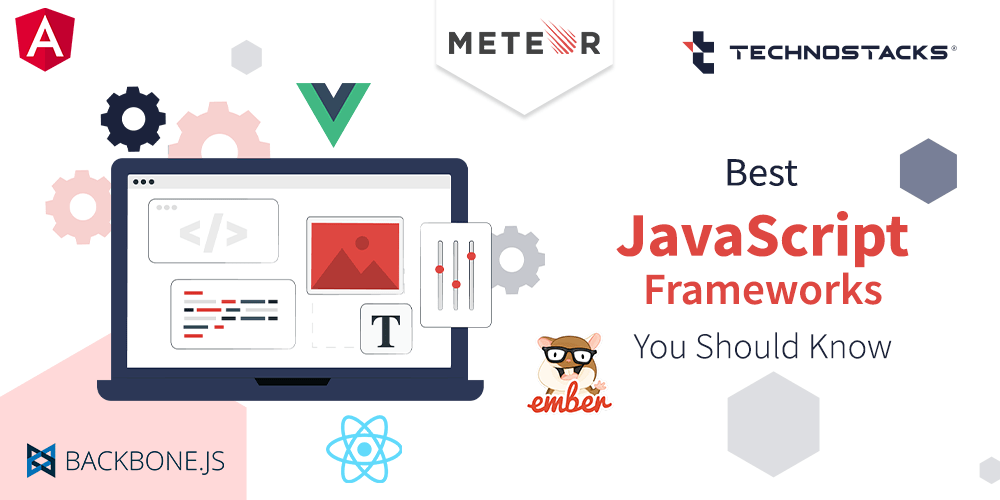 There are a number of the best JavaScript frameworks available for web developers with diverse pros and cons.
JavaScript Frameworks give JavaScript developers the basic foundation needed for developing JavaScript applications. This saves JavaScript developers the stress of beginning from scratch by using an operational base to get things going.
JavaScript is the most popular multi-paradigm language that encourages functional, event-driven, and robust (including object-oriented and prototype-based) programming styles.
JavaScript was used initially only for the client-side. However, nowadays, JavaScript is utilized as a server-side programming language as well. To sum up, in just a single sentence – JavaScript is the language of the web.
We will see here the guide to both back-end and front-end best JavaScript frameworks.
What Is a JavaScript Framework?
The collection of pre-written JS codes will help you perform common tasks faster, making JavaScript coding easier, especially for novice developers.
In JavaScript Frameworks, this base holds a collection of JavaScript code libraries. The libraries compile code that extracts particular functionality for the specific sort of app you may be working on.
In reality, the JavaScript framework will determine the structure of the complete application.
What Does a JavaScript Framework Do?
Every JavaScript framework assists a particular purpose. JavaScript is a durable option for web development, and several of its framework's spin around this undertaking.
Building web apps and websites from origin to end can take quite a bit of work. Web frameworks – or JavaScript frameworks – profit because each website and web app has regular features.
In this method, you can study the term framework quite literally. Businesses also rely on JavaScript frameworks as a design for the overall assistance and shape of an outer framing. Software frameworks do the same.
JavaScript frameworks contribute pre-written JavaScript code that provides standard programming features, finally easing development.
Best Javascript Frameworks for 2022
We have listed the most popular frameworks you can use for your future projects below, along with their pros and cons for better understanding.
Have an JavaScript app idea? Let's discuss
Take the first step towards your business growth
Get your free quote now
Let us see the most used JavaScript Frameworks available in the market. This list of JavaScript frameworks is prepared by the research, forum analysis, and expert developer's reviews.
Do you want to develop JavaScript App?

Discuss your requirements with our experienced app consultant and get detailed quote about your project

Start now

Want to know cost of App Development?

Let's talk with our experienced app consultant and share your requirements with us and get custom quote as per your needs.

Start now
Frequently Asked Questions For Javascript frameworks
Q1: What is a JavaScript framework?
Answer: JavaScript is the most popular multi-paradigm language that encourages functional, event-driven, and robust (including object-oriented and prototype-based) programming styles.
Q2: Which frameworks use JavaScript?
Answer: Vue.js, angular.js, node.js, react.js, express.js, and many more framework uses JavaScript.
Q3: Which one is the best JavaScript framework?
Answer: No one FWK is acknowledged best for JavaScript. All come with their diverse pros and cons. React, Angular and Vue.js are some of the best javascript frameworks available for web development.
Q4: How many types of JavaScript frameworks are there?
Answer: There are at least 24 JavaScript frameworks such as Vue.js, angular.js, node.js, react.js, and many more.
Q5: What are the most popular JavaScript frameworks?
Answer: The most popular JavaScript frameworks are Vue.js, angular.js, react.js, Vue.js, Meteor.js, express.js, and many more.
Q6: Can you create web applications without using JavaScript frameworks?
Answer: Yes, it is entirely possible to write any web application without the JavaScript frameworks.
Q7: Which JavaScript framework can you choose for your project?
Answer: You must choose the right one before your team starts the development process. If you practice a chance FWK, possibilities are you will get lost halfway through and may want to start from scratch.
Q8: Which is the most accessible JavaScript framework to learn?
Answer: Vue.js is one of the most vital frameworks. This is because it is straightforward to learn and implement this with minimal effort. Vue has equal JavaScript and TypeScript support, making it an intelligent framework to work in.
Q9: Which JavaScript frameworks are the fastest?
Answer: Vue.js is acknowledged as one of the fastest JavaScript frameworks in the industry right now. React is also one of the quickest JavaScript frameworks chosen frequently for its speed in today's market.
Q10: How to choose a JS framework?
Answer: Start by holding a brainstorming sitting and recognizing the requirements of your team. What sort of characteristics will you need, and how scalable should the work be?
Analyze the pros and cons and the features of each of the FMs as mentioned earlier and then choose one of them.
Q 11: What are the best frameworks for JavaScript beginners?
Answer: SPA-based FWK like Vue, Angular, and React are best for JavaScript beginners. These offer great value for the time spent learning them and can help developers find work quite quickly.
Q 12: What does a JavaScript framework do?
Answer: JavaScript frameworks provide pre-written JavaScript code that provides standard programming characteristics, eventually easing development.
Q 13: What is the difference between a JavaScript library and a JavaScript framework?
Answer: With JavaScript libraries, developers call a precise set of functions from the explicit parent code. However, they will not be able to call JavaScript frameworks. Rather, different frameworks call and use a piece of code in a planned move.
Q 14: Which are the recommended JavaScript frameworks by the developer's community?
Answer: SPA-based frameworks like Vue, Angular, and React are the best JavaScript frameworks recommended by the developer's community.
Q 15: Which JS framework is popular?
Answer: React has been the most widely used latest Javascript framework. This bare-bones framework uses functional principles to simplify parallel programming and code comprehension.
Q 16: How many frameworks are in JavaScript?
Answer: There are around 83, each designed to fulfill a specific purpose. Among that the best javascript frameworks are React, Node.js, Angular, Vue.js, and Ember.js.
Q 17: Why are JavaScript frameworks used?
Answer: JavaScript frameworks are integral to modern front-end Web development, providing developers with tried-and-true tools to build scalable, interactive web apps.
Q 18: Which JS framework is best for 2022?
Answer: The best javascript frameworks 2022 include Node.js, React, Polymer, Aurelia, etc.
Q 19: Which JavaScript framework should I use?
Answer: Angular, one of the most powerful JavaScript frameworks and highly efficient, is an open-source framework used to develop Single Page Applications (SPA). It extends HTML and interprets attributes to perform data binding.
You can choose a Javascript framework as per the requirement and scope of your project.
Other most popular frameworks are React, Node.js, Ember.js, and Vue.js
Want to build your Customised JavaScript App?
Want to validate your application ideas? Want to get free quote for your customised Application? Connect now!
Click here to start now
Key Takeaways
Understanding the different JavaScript frameworks isn't enough to help you choose. A framework's popularity might indicate a large ecosystem of developers that can help make learning easier.
Consider where you intend to use the framework. Before choosing a development tool, you should consider the design and features of your app. Then, learn more about the framework's features and complexities.
It is also essential to understand the most suitable JavaScript framework to suit your needs and the factors to consider when conducting the analysis.
You must have gained a bright idea of all the top JavaScript Frameworks and testing ones right now. Like we discussed above, there is no one do-it-all framework in the market. You need to examine your team's skills and demands and then choose the ideal one to work with.
JavaScript Framework, when practiced somewhat, can effectively transform the system developers work coding and testing.
If you are a team that is continually bound by rigorous deadlines and back-to-back work, then running with a javascript framework will draw down the power of work and make a website and web app development fun and appealing.