How To Create A Mobile App Startup Plan For Your Business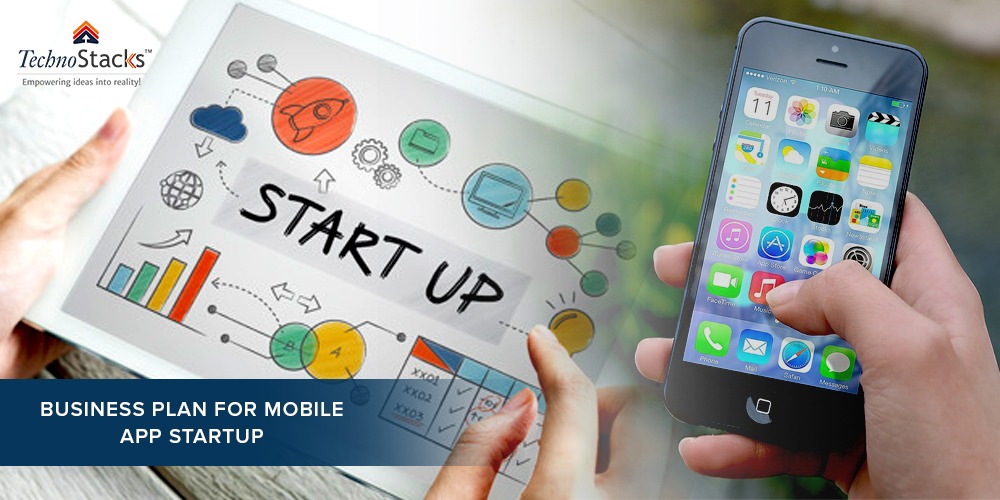 Modern trends come with modern solutions. From having computers that are as big as a big room, we have come a long way to smartphones. It wasn't a big journey though. It's been just a decade or so, to get here. Do you ever wonder how this impossible thing turned up to be quite simple? Well, allow me to explain that.
There was a business plan written and executed in the same way as to keep up with given time. For startups, old school ways are of no use. One should have a mobile application to reach more and more customers.
Now making a mobile application is a job behind the desk. But once it is ready to launch, you have to approach a specific audience within a specific timetable to get your desired outcomes. For that, you need to come up with a mobile app startup business plan.
Whatsoever your business strategy is, say B2B or B2C, once the app is developed you will be facing competition with around 2.1 million apps from Android and iOS. Let's make a mobile app business plan to beat them.
On average a person keeps 30-40 apps on their smartphones apart from mandatory ones. Out of these, hardly 8-10 are actually used daily. Now to get a place in those 8-10 we have to come up with a perfect app startup plan. You can't simply wait and see how things turn out; you have to work for them to turn out in the exact same manner you want them to. That's the sole key to a successful business plan.
Hence, to write a business plan for a mobile app you have to come up with some basic set of rules as to how you want to execute a plan for your business. From investors to clientele approach everything has to be planned on paper and then executed in real.
Let me give you tips to create the best business plan in a systematic way that will be your best guide throughout your journey.
Executive Summary

It tops the list to set goals for near as well as long term future plans. One has to be quite sure about how and when to take up one's business and in which direction. This part is generally written out at the end, after seeing the scenario of investors and shareholders. It includes:

The shortcomings or the difficulty your targeted audience is facing is the primary step to write a business plan for a mobile app. It can be a series of events that your present customer base wants to be solved. It has to be concise and clear.

Answers to all the problems that were in previous versions. Make sure the mobile app startup business plan gets the solution to all the problems from previous apps. State how different your app is than others that are already available in the market.

For every mobile app business startup plan, all you need is a direct agenda. It helps you create quite a proposition to your value. If you are creating a new market, it's going to be tuff. But working in existing isn't easy either. You have to state how different you are than the present ones.

It's the only thing investors are looking for in any business plans for apps. They will see to it that your targets are beneficial for them and match their portfolio. You have to tell them what they are investing in. What is the exit plan? In how long one can expect for returns? And much more of this sort.

Know your Market

Mobile app startup business plan needs to be clear for their selection of the market. It should be precise but not small. History has witnessed it, the bigger the market, the bigger the success is. Take Zomato and Airbnb for example. All you have to do is convince your investors for the following three keys to majoring in the market scenario:

Generally known as TAM is the sum of the wide audience that you are targeting.

Serviceable Available Market

Generally known as SAM is the total number market that your startup is planning to achieve within a given time limit. This is a must step in the mobile app business plan.

Serviceable Obtainable Market

known as SOM is the sum of the previously established market that you are aware of and going to get hold of them in near future say a year or two.

Since it's your first time to face the market that is already established, you need to know what you are in for. Business plans for apps help you do that exactly. From portals such as Nielsen, Forrester, Gartner you can have all the information about who's standing where in the market.

To set a proper mobile app business plan example we need a graph for potential growth and success, you have to go through SWOT ANALYSIS of all your suspected competitors. Strength Weakness Opportunities Threats are the keys to know your competitors in and out. You will know what you are dealing with and with whom, quite before facing it in real time. It will help you prepare for a solution rather than giving you problems.

How Can You Convert Your Store Into Online Pharmacy App?

Team Members

The main support you will have to plan and establish would be from your company. For a startup choose your team wisely. Based on skills and efficiency, choose every member that is suitable for the job. The terms you are looking for are legal registration of the company and where it is based along with the number of employees on your team. The way you are going to act as a team at work each day.

We all can always act better if we are known to the history about it. Think about all the possible milestones to achieve and maybe run a survey on how to cope up with such scenarios.

This is the spinal cord of the entire operation. Your project is nothing but just papers without the people working on it. So better keep tabs on how you'll work with them and how you'll manage the entire task force.

Marketing Strategy

Here comes the tricky yet most important part of the business plan. How you plan to pull the entire operation in real time world. The market is no longer confined to a particular area.

Social media has helped a lot in building a vast approach to get to the targeted audience in more than one way. You are supposed to see PR, content writing, advertising, approaching referrals and much more that's not a job for a day.

You have to follow a set of tactics that makes you set your foot in the market at the right place and right time. You will get a complete overview from the planning phase to investing in it and then actually getting results!

Financials

The most important part of the business plan is this. Now you are talking! Bending some numbers and keeping it all down with facts and figures is the real-time executing experience that you'll get while making a business plan for the app. From getting money to gaining profits back, it's a long journey ahead. Few points that you need to include are:

For app startup business plan you might be quite clear with this context. The first option is ADVERTISING. Here actually you tend to make your user-based product. The advertisers pay for reaching out and users can enjoy it for free. The next one is PAID. The name itself says it all; you have to pay for the app that you download, and the company gains revenue out of it. IN-APP PURCHASES is also the best feature.

This allows the company to first let the user to use some portion of it for free and tries to gain the interest of the audience. Then for added features, it can ask money via in-app purchase feature and collect revenue. Last resort is via SUBSCRIPTION that helps to grow one's B2B connections.

The bare minimum for app startup business plan that is about to cost you from developing the app until launching it is the costing of your entire project. Now according to the revenue module, an investor will get the clear picture on how the costs are covered and when returns are expected.

It's the last resort we turn upon while getting a little push up for the entire project to actually take place.
Key Takeaways
To summarize it all, all the apps are different, and milestones are also different. But with this business plan, you can work wonders and get the outcomes in a timely manner. It's truly said, precaution is better than cure! Well, it surely suits here. Hope the tips to create the best business plan helped from my side to help you build one of the best apps ever made. Stick to your plan and investors are bound to get impressed.
Technostacks is a top mobile app development company in India and if you are looking for a trusted app development firm for your business project requirement then contact us now.