Most Popular Mobile App Development Frameworks For App Developers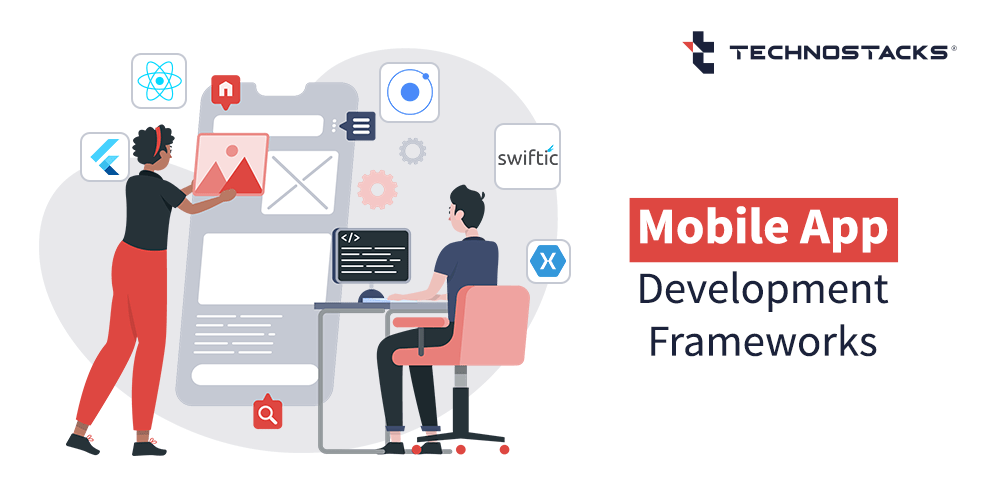 There are a number of mobile app development frameworks available and we are going to discuss only the best among that!
Companies with an established mobile app and those looking to create a new mobile phone app need in-depth study, strategy creation, comprehensive planning, and analyzing the current mobile environment to flourish in an exceedingly aggressive digital market.
Native apps are expensive to establish and sustain, even though they provide an unrivalled encounter in terms of looks and performance.
With native apps, the highest customer engagement is challenging due to the variety of channels and devices. The answer is to use mobile app development frameworks to create a web, hybrid, or cross-platform mobile app for companies at an expense.
What is a Mobile App Framework?
Companies have demonstrated that mobile applications are the best way to grow their customer base. There's never been a lack of original app concepts. Everything functioned to the benefit of application development businesses.
You don't need to know any complicated computer languages to create an app. There are various app development frameworks for iOS and Android. All you require is a solid grasp of web-based programming languages Such as HTML, CSS, or JavaScript.
A mobile app framework is a software creation platform that includes tools and software, compilers, debugging tools, and programming interfaces, among other things. Thus, a developer creates the application's source code and the framework and uses various elements to generate the application for the different mobile devices.
Best Mobile App Development Frameworks in 2023
Modern-day mobile app development frameworks provide several built-in benefits, like speed, effectiveness, and a bug-free atmosphere. The framework uses pre-built elements, including compilers, debugging tools, and toolkit, to display the application on the target device using the company's code.
Using the expertise of a reputable mobile app development company may help the firm create mobile applications which are quick, reactive, and provide excellent user interactions. The use of mobile app development platforms speeds up and simplifies the app creation procedure.
Types of Mobile App Frameworks
Android, iOS, as well as Windows are just a few of the digital devices available. Mobile applications come in a variety of shapes and diverse sizes. We're not speaking about specific app areas like purchasing or games. However, in terms of how applications work on a smartphone, mobile apps may be divided into three categories.
Native Apps
They are designed for specific operating systems such as Android, iOS, and Windows. Apps make use of device features such as RAM, camera, GPS, and so on.
Web Apps
A Web app is software that is kept in a distant location and distributed via the Web using a browser interface. Emails, online shopping sales, auction sites, weblogs, instant messaging apps, and other web apps are popular.
Hybrid Apps
Hybrid apps are applications that are launched on a smartphone in the same way that every other application is. What sets them apart is that hybrids combine features from native apps and with components from web apps.

The mentioned frameworks are commonly used to create these apps.

Native app framework
Hybrid app framework

Native apps are the highest-quality applications in respect of both aesthetics and functionality.

However, native application development is more expensive. Furthermore, achieving the highest customer engagement might be difficult due to the variety of platforms and devices available.

When financial constraints and a large number of customers are the primary goals, an application development firm may choose hybrid or cross-platform application development technologies.
List of Top Mobile App Development Frameworks in 2023
Below are some Modern mobile app development frameworks. These can be very helpful for both android and iOS users.
Frequently Asked Questions (FAQ) – Mobile App Development Frameworks
Which mobile app development framework should I learn in 2023?
All the above-mentioned mobile applications frameworks (React Native, Flutter, Xamarin, Swiftic, Ionic, Apache Cordova and jQuery Mobile) are essential for any mobile app developer to learn. As of now, changes can take place with time, but the given frameworks are essential.
Which is the most used app development framework?
In the software industry, React Native is among the most popular mobile app frameworks. The FB software is an accessible framework that allows you to construct mobile apps for Android and iOS devices.
Which are the easy-to-use mobile app development frameworks?
Framework7 is simple to understand and also uses an open-source framework. It enables programmers to create native-looking Android, iOS, and desktop applications utilizing popular online standards like HTML5, JavaScript, or CSS3.
Which mobile app development frameworks can be used for cross-platform app development?
React Native, Ionic Framework, Node, Xamarin, NativeScript, Adobe PhoneGap, and Flutter are the best mobile app development frameworks for cross-platform app development.
Which frameworks are the best for native app development?
Native Script is an accessible framework that uses Angular, Typescript, JavaScript, and CSS to develop native mobile applications. React Native is the finest JavaScript framework for creating native apps for any platform and operating system. Xamarin is among the most used mobile app development frameworks. Microsoft launched this native framework.
Which is the best mobile app development framework?
React Native is among the most commonly utilized mobile applications frameworks, with 42% of programmers globally using it. It was created by Facebook and is built on JavaScript. Using Android and ios platforms, React Native programmers can quickly construct a smartphone application with a native appearance and touch.
What technologies or frameworks can be applied to build a mobile application?
Python, Java, Flutter, React Native, Swift, Kotlin, R Programming can be used to develop a mobile application as they are the top mobile app technologies.
Which stack is best for Android mobile app development?
Java has turned out to be the most widely utilized programming language for creating Android apps. Because it is centered on Android APIs and a large number of built-in Java libraries, it is among the finest choices for developing Android apps.
What is a hybrid mobile app framework?
The Hybrid Managed Framework combines the advantages of both Data-Driven as well as Keyword-Driven frameworks. The terms, and the testing dataset, are externalized in this scenario. Test data could be kept in a properties file or perhaps an Excel file, and keywords are kept in a distinct Standard java file.
Which framework is best for mobile app development?
Flutter is the most popular Android framework out there. It has speedily scaled the list of dominant positions after being recognized as the second most-used framework after React Native. Onsen UI, React Native, NativeScript, Iconic and more are best for mobile app development.
How to select the right mobile app framework?
Consider these factors at the time of choosing the right mobile app framework:
● Platform Feature Support
● Speed Considerations
● Cost of Development
● Security Risk
● Enhance Efficiency, and After Launch Updates
You should consider these factors at the time of choosing the right app framework for your mobile.
Is there any framework for Android development?
Apache Cordova, formerly known as PhoneGap, is a free and open-source Android framework that allows hybrid app development in many basic web-development languages and technologies, like JavaScript, HTML5, and CSS3. It authorizes for construction of multi-platform apps with a single code base, e.g. Appcelerator Titanium.
What are the technologies used in iOS mobile app development?
Technologies like UIKit allows you to create a touch-based user interface. Because all iOS apps are based on UIKit, you can't send an app without this framework. Its interfaces are an integral component and part of the Quartz Core framework.
Which programming is best for app development?
Java is best for app development. Java was the official language for Android App Development and it is the most used language. Many of the apps in the Play Store are constructed with Java, and it is also the most reinforced language by Google.
Key Takeaways
After considerable thought, our mobile app development specialists have picked the above-mentioned mobile app development frameworks. Modern frameworks will alter the business as we progress forward towards 2023.
In the meantime, you might need to think about these possibilities for your future mobile apps precisely. We described the most popular mobile app development frameworks.
Hence, if you have the proper app concepts, now is the opportunity to move into the development phase.
You will never have any regrets if you perform it correctly. So, if you are looking to integrate your company business or operations with mobile applications, we will be able to meet all of your strategic and development needs. Contact us for more details.